It can be said that it is a constant evolution with a goal  thought and done specifically for a place/time. It is a visual impact that is used for sowing awareness linking respect, diversity and freedom. DOURONE started with graffiti in Madrid, Spain in 1999. His style is defined as SENTIPENSANTE*. In 2012, he starts working with Elodieloll forming a team and living in several countries. Today they continue with their world tour.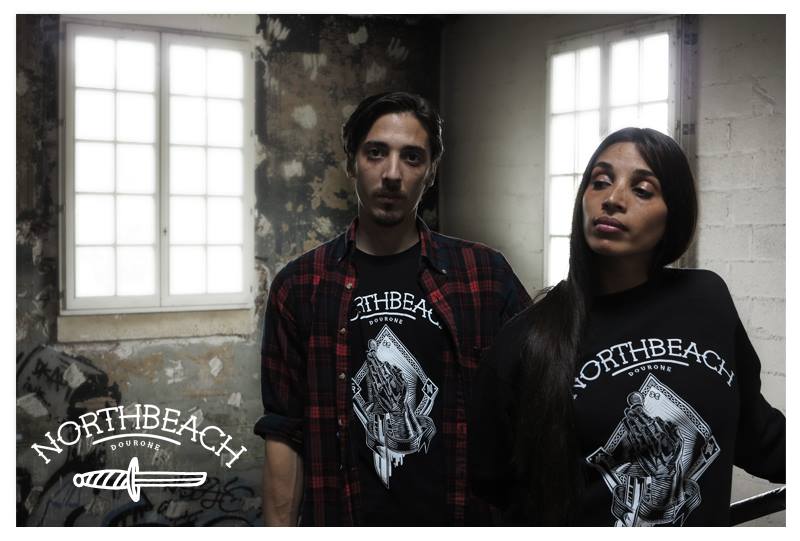 Fabio Lopez/Elodie Arshak – (DOURONE)
See the interview with DOURONE :
---
1 – Everyone that keep up with your work must have the curiosity to know how you got interested in art, can you tell us ?
I came to art because when I was younger I liked to draw and also because of different circumstances such as my first painting, which was when my uncle came from France to visit. He started to paint a canvas and I started to paint one too.
The first graffiti I saw was in Alcorcon (suburbs of Madrid) where my grand mother lives. When we used to go to shop together I used to say to her: "Granny wait! I want to see the drawings!"
But mostly it is because I think that I have sensitivity and insight into things and patience to help me to keep drawing.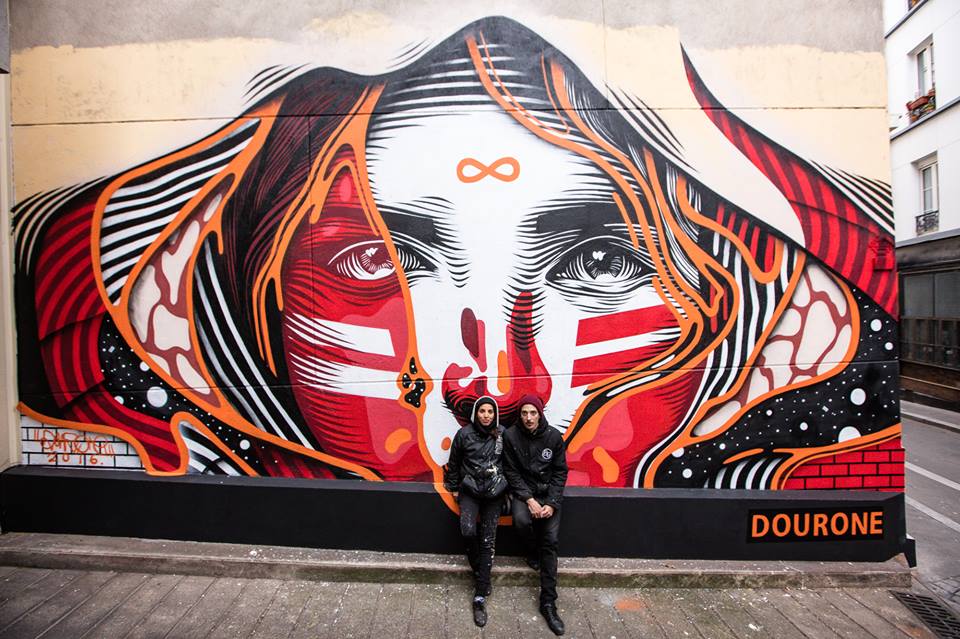 SAINTE MARTHE – Paris/France – Photo : Ro – photography
2 – Who or what circumstances led you to invest in art as a career to follow ?
When I was younger I have never think about what I would like to be as an adult but I have always draw and painted.
So from very young I have tried to work myself with the things that I used to do.
And in the end it has been an evolution that has led me to the point where I am now.
3 – How was it to finally recognize yourself as an artist? what were the biggest challenges and difficulties ?
I recognize myself as an artist from the moment I am satisfied with the things I do and I consider mine.
The biggest challenge is when you do not get something new.
And one of my biggest difficulty is to get by on your own with art as it is difficult to live by he culture.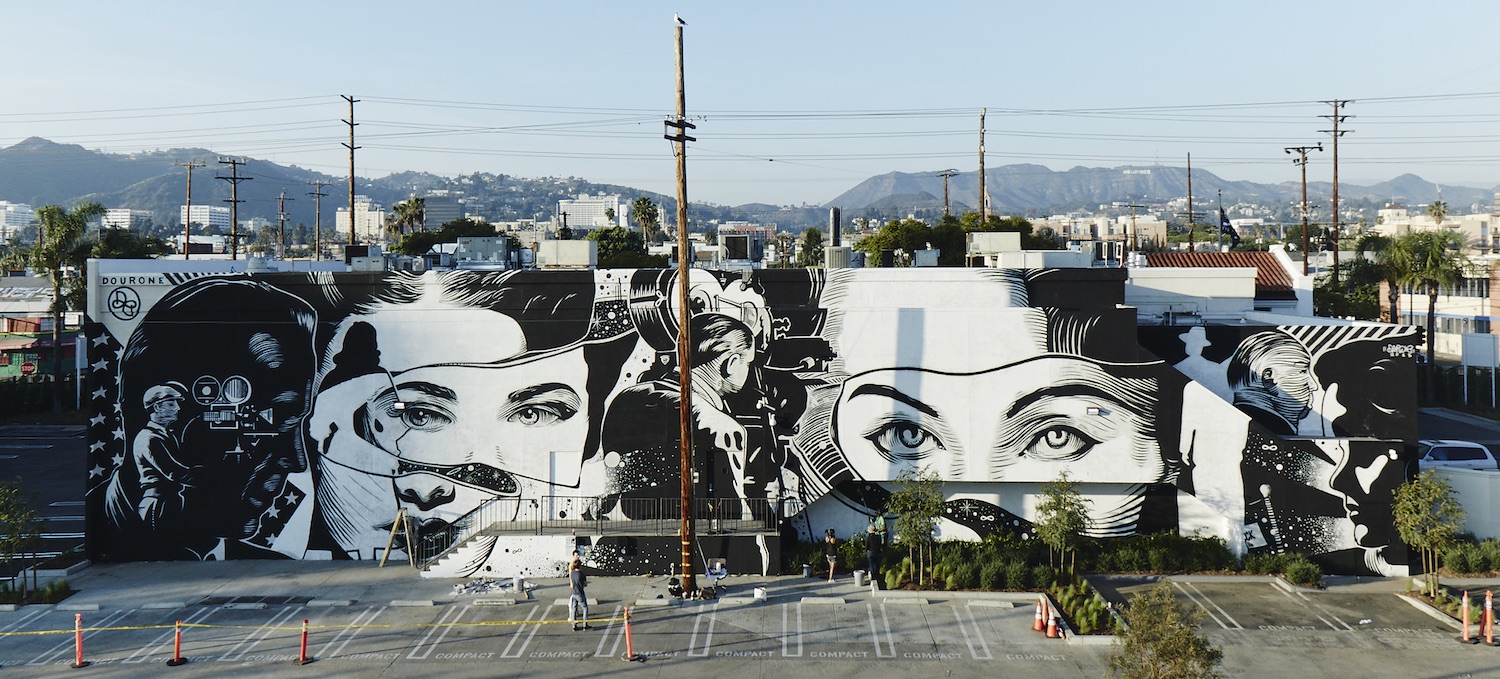 HOLLYWOOD /USA
4 – How was it to define the art style you wanted to work with ?
At first I had no defined art style and I was always trying to see if I even felt comfortable with one style.
Then I realized that what I had to do is learn to draw.
I was testing it in different disciplines like painting, graffiti, sculpture, and decoration.
Then came the computer and I spent a lot of time working with it because I was hallucinating how fast you could get a job with this tool!
And finally, I am almost at the same point, trying to define my art style and put a name to this style.
A word that I like is SENTIPENSANTE which best suited to what I do ( it is a word from Uruguayan writer Eduardo Galeano) but I am still looking for the most appropriate.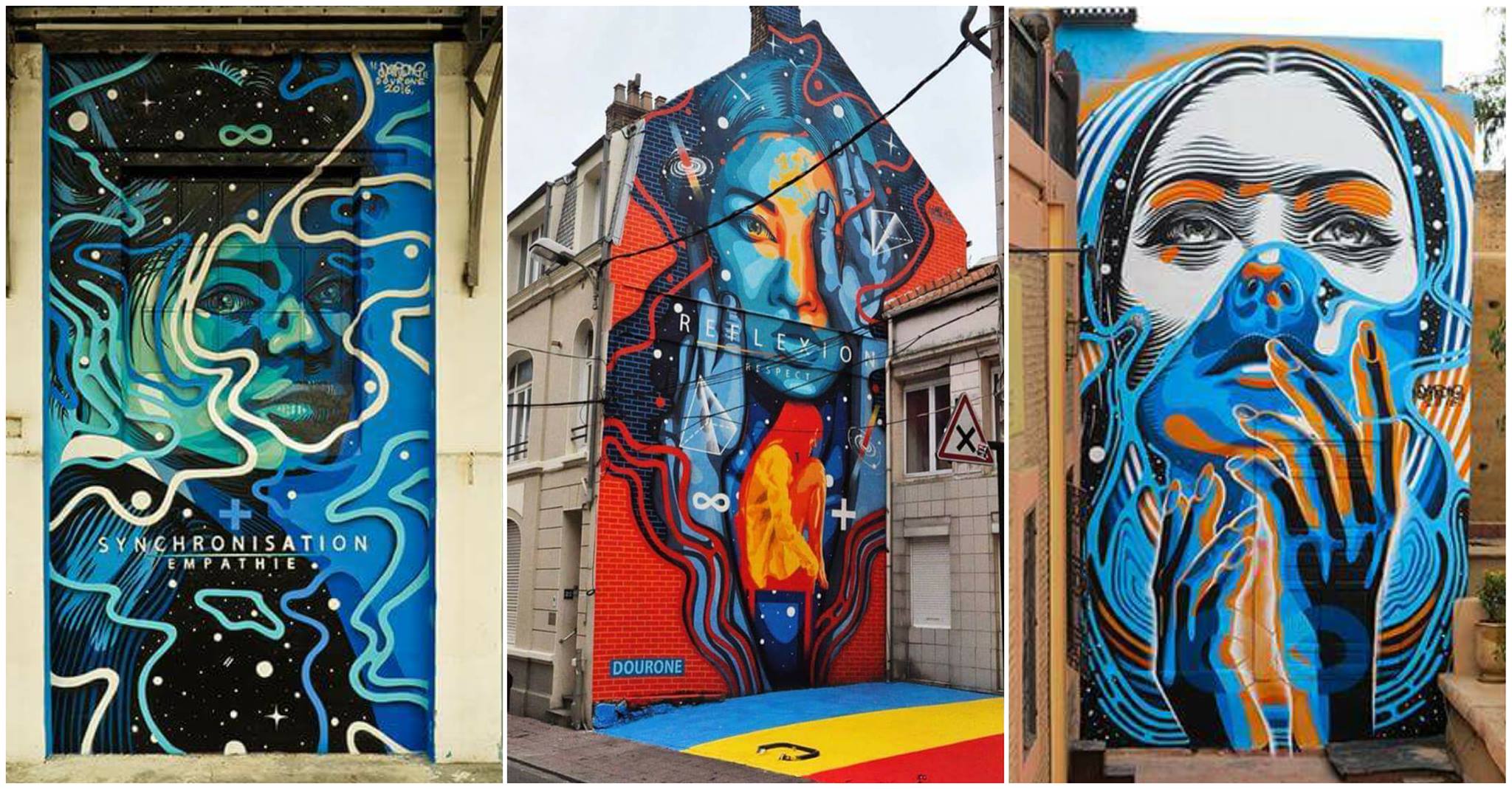 5 – Where do you get inspiration from ?
I get my inspiration from a lot of things.
As it can be from the people I know on the road, a conversation, a meditation.
But one of the things I appreciate the most currently is the contrast of light, which defines very well the separation and the union.
6 – Which artists of the current scenario you admire ?
Currently there are so many talented people that it is hard to just admire one but in my discipline of street art I love the last artworks of INTI, ARYZ, TELMOMIEL, WAONE, BORONDO and I could go on naming the classics and lot of people who paint really well.
7 – What colors are essentials to your work ?
At this particular stage I am painting with blue and orange that I think fit very well with my philosophy of work and what I mean in my work.
They are colors that you see every day because every day they appear in the sky.
8 – What do you still dream of performing through your art ?
Through my art I attempt to represent three values, which are: Freedom, Respect and Diversity.
Those three values are the foundation and my goal is to create a quality education, a constantly evolving education.

ENTRE DOS ALMAS – Cartagena/Spain
9 – What arr the good things that your art brought to you ?
My art has given me almost every time good things, such experiences, friendships, knowledge and happiness.
10 – If you were not an artist, what would be your Plan B ?
Trying to be an artist.
11 – Some artists like listen to music during the creative process, you work the same way ? And in your playlist that can not miss ?
Of course I like listening music, it is the joy of life!
It is hard to say which is my favorite music because it can change from rap to electronic, to cumbia to return to a salsa and back to Indian music…

DOURONE/MURONE – Tenerife/Spain
12 – Leave a message for our readers.
"No matter who you are, no matter where you go in your life, at some point you will need somebody to stand by you." ROGER RIDLEY.
---
Mais informações sobre DOURONE :
Instagram : @dourone
Facebook : Dourone
Site : www.dourone.com
See other murals Dourone :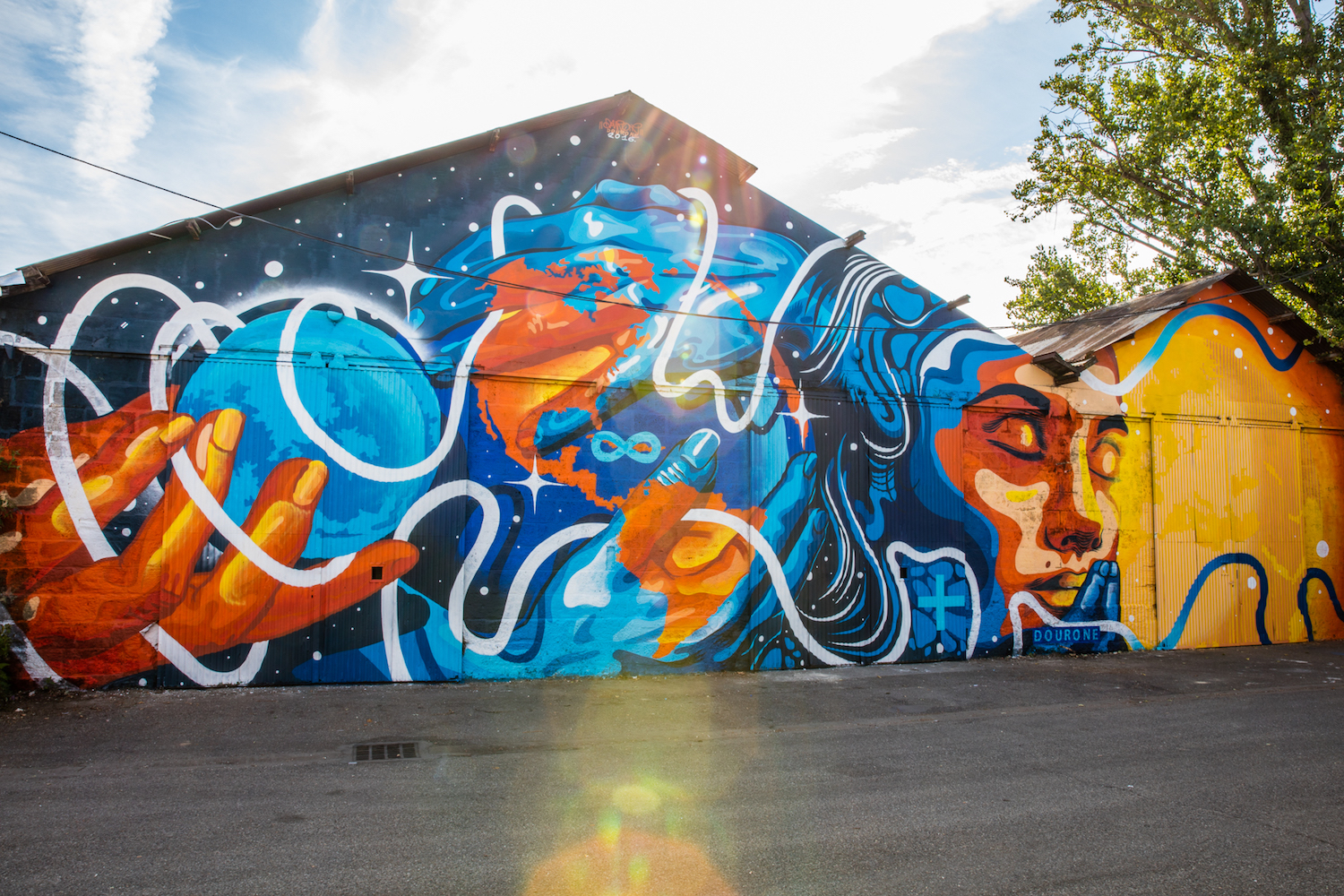 FRONTIÈRES AQUATIQUES – Bordeaux/France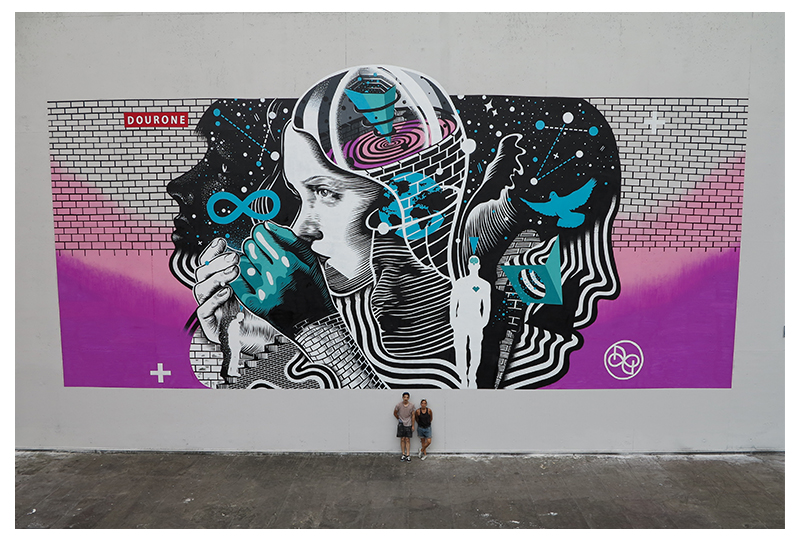 INFINITA PAZ MUNDIAL – Louvain-La-Neuve/Belgium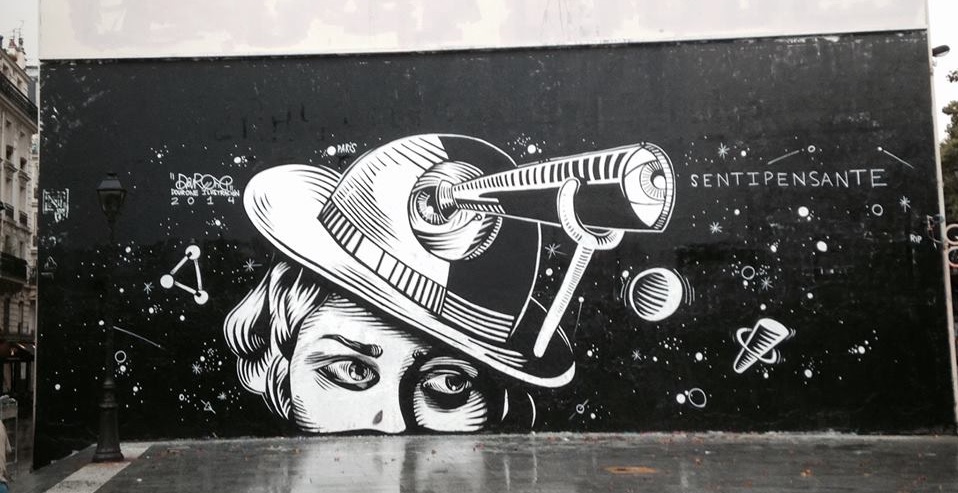 POINTE DE POULMARCH – Sentipensante/Paris/France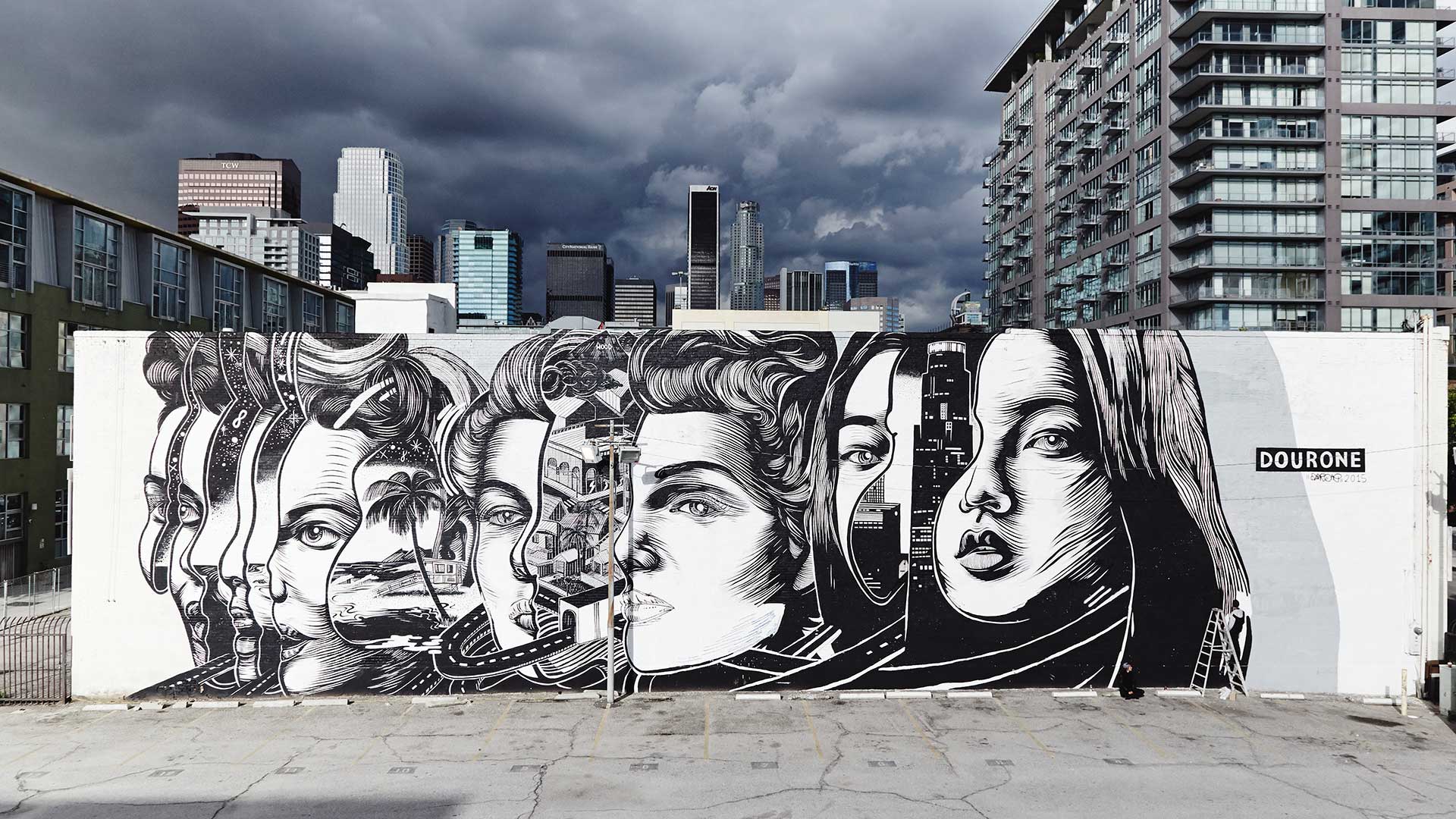 DOWNTOWN/LOS ANGELES/USA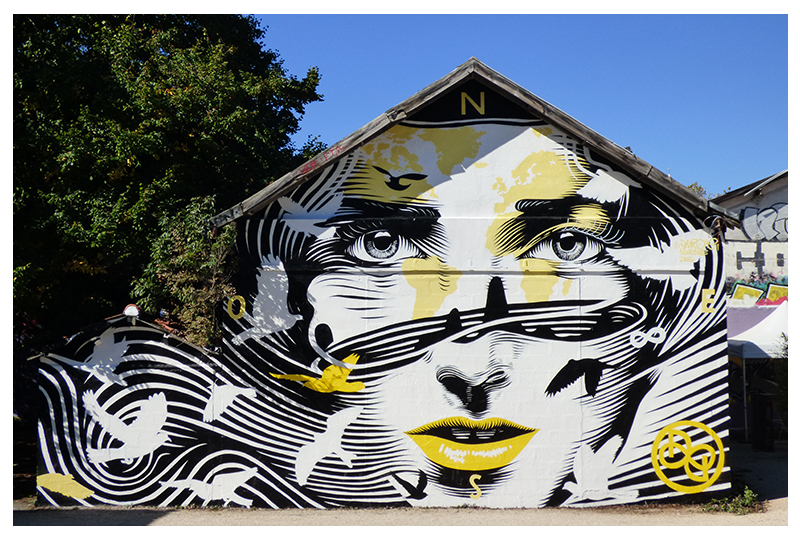 EARTH-MIGRATION – La Rochelle/France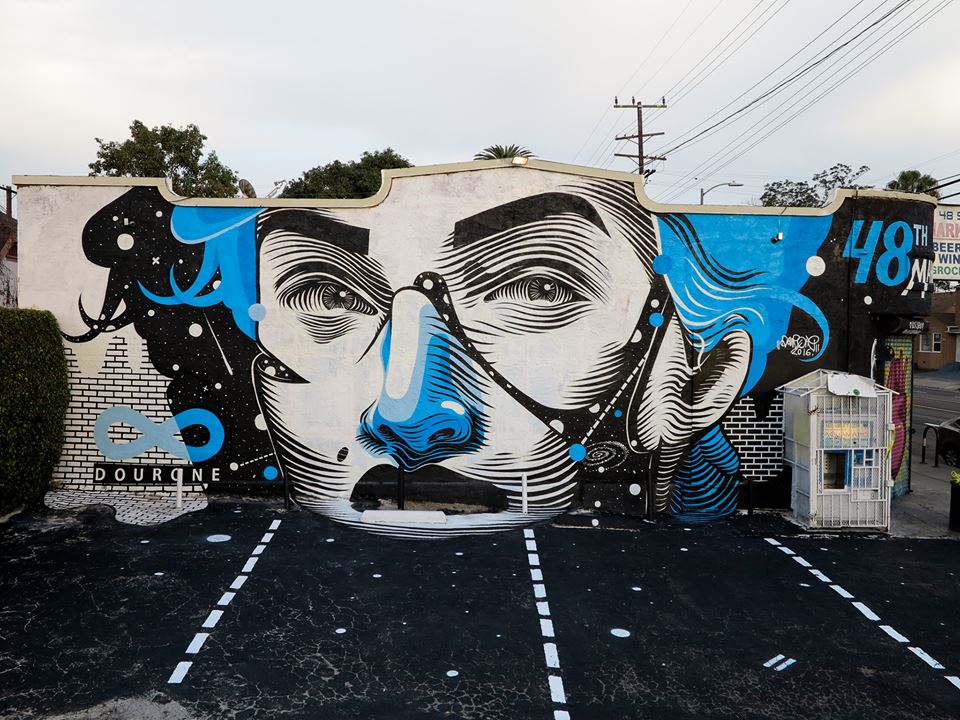 BEHIND THE WALL – Los Angeles/USA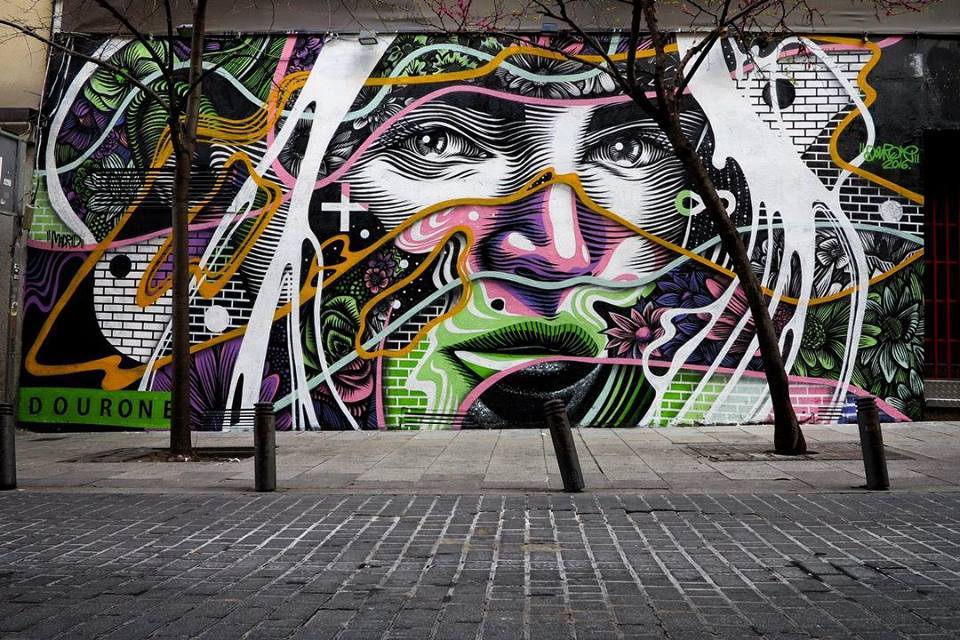 BORDER LINE – Madrid/Spain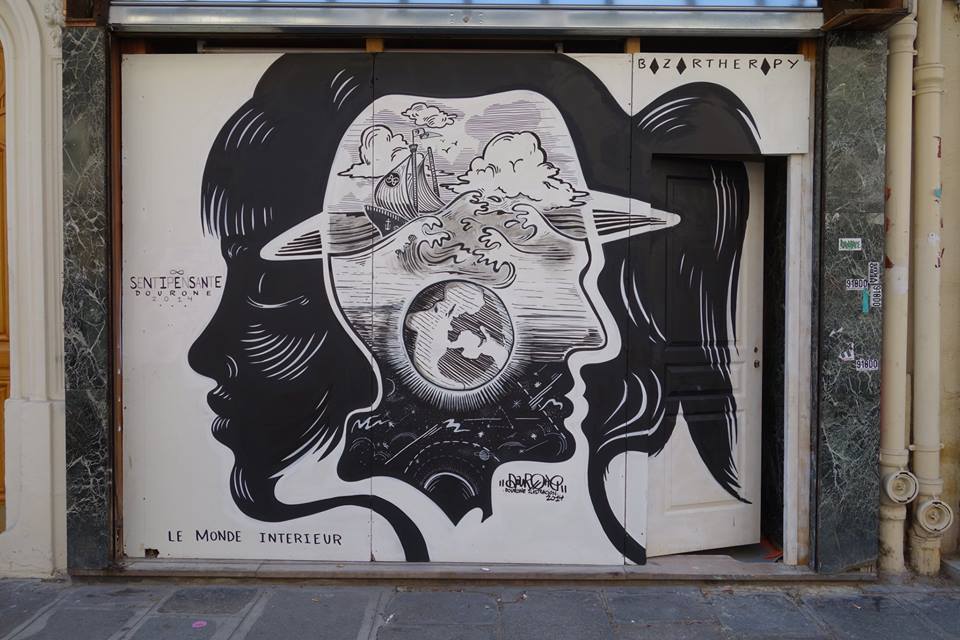 SENTIPENSANTE | Le monde Intérieur – Paris/France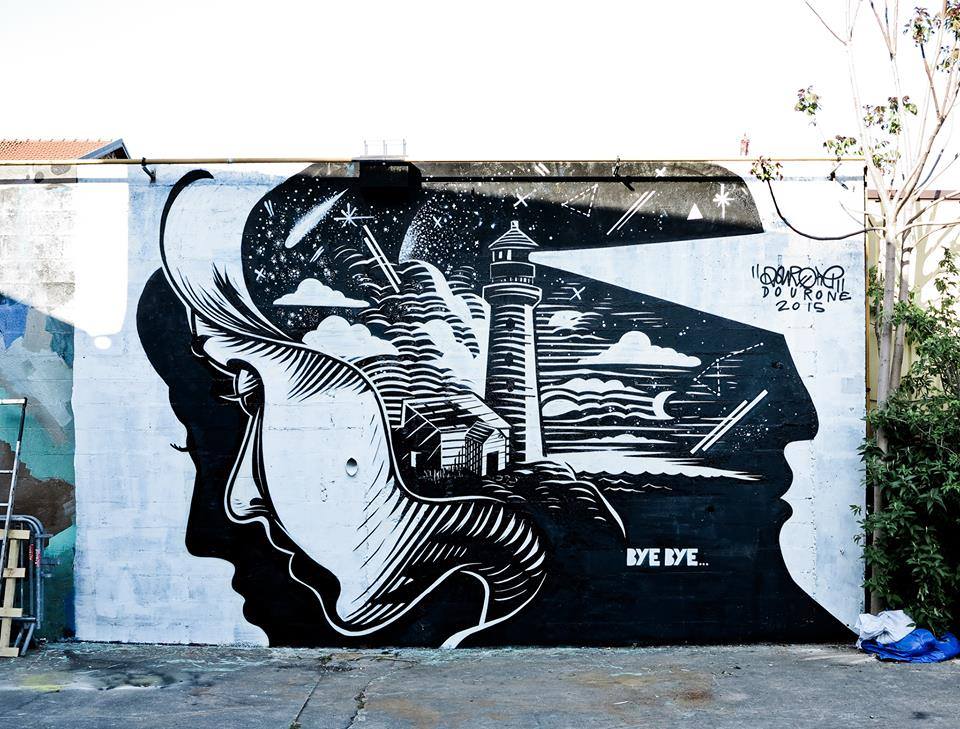 Bye Bye Madeleine – Paris/France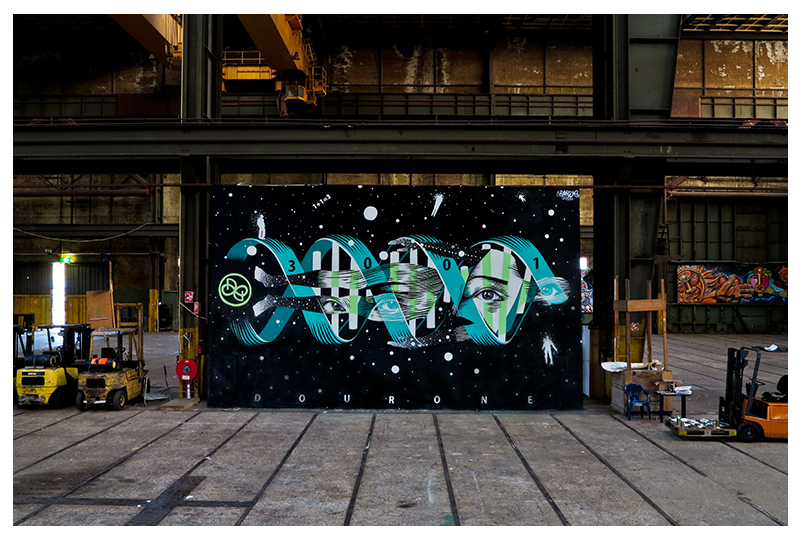 1+1=3 – Amsterdam/Netherlands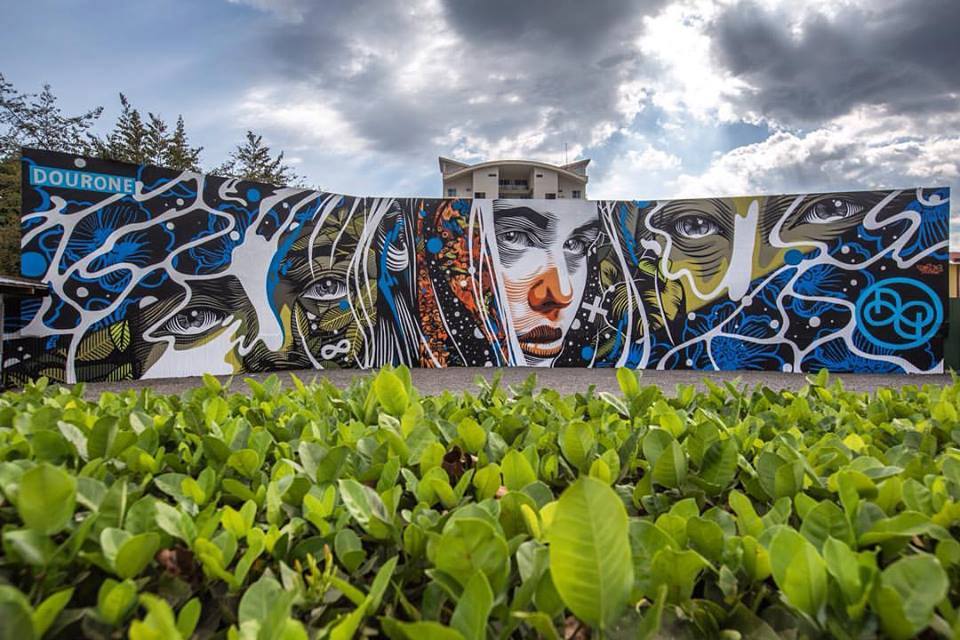 PURA VIDA – Jacó/Costa Rica
WELCOME ADAN, YOU ARE THE KEY – Los Angeles/USA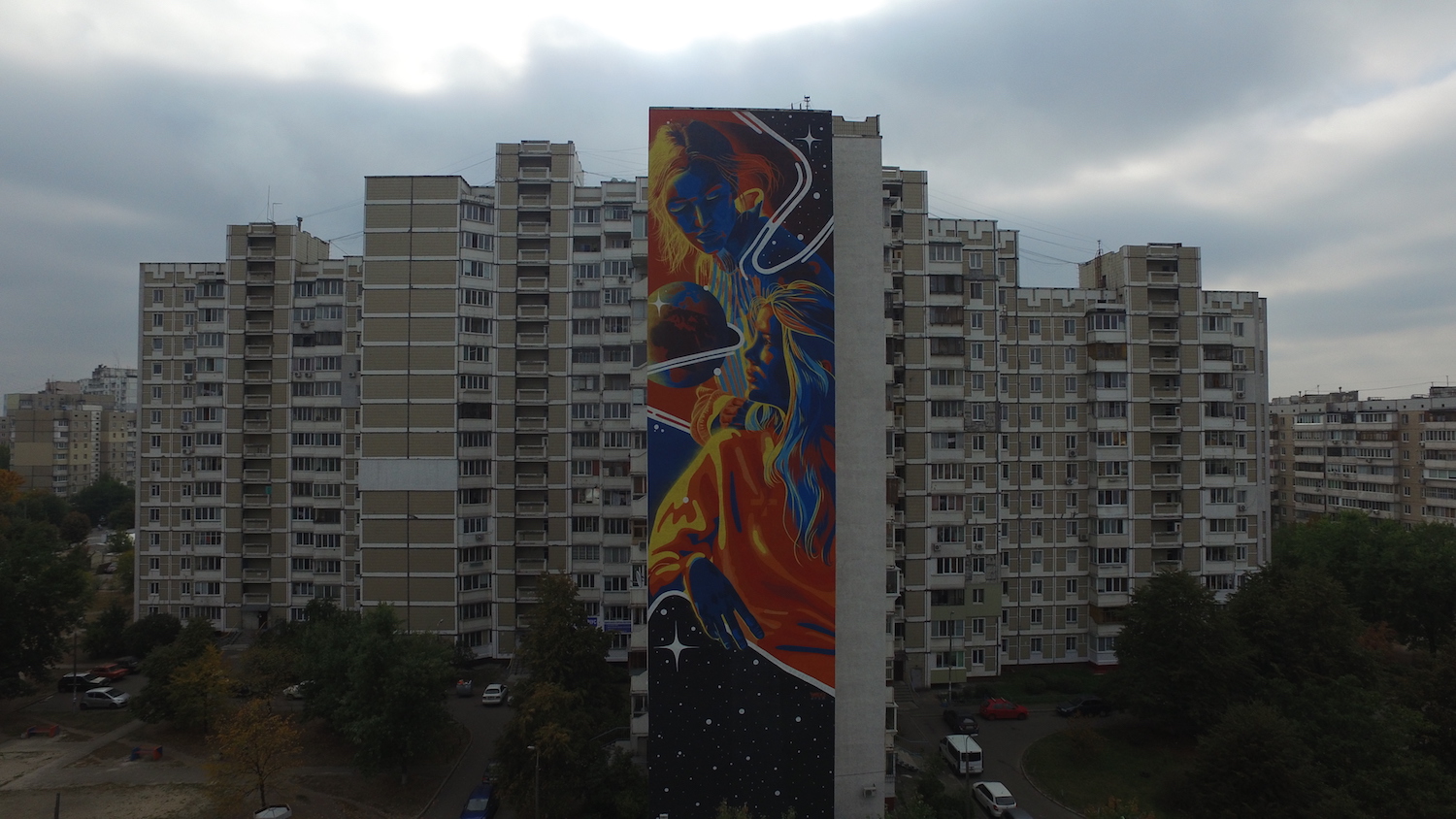 FRATERNITY – Kiev/Ukraine
MINI HOUSE – FilipinoTown/L.A/USA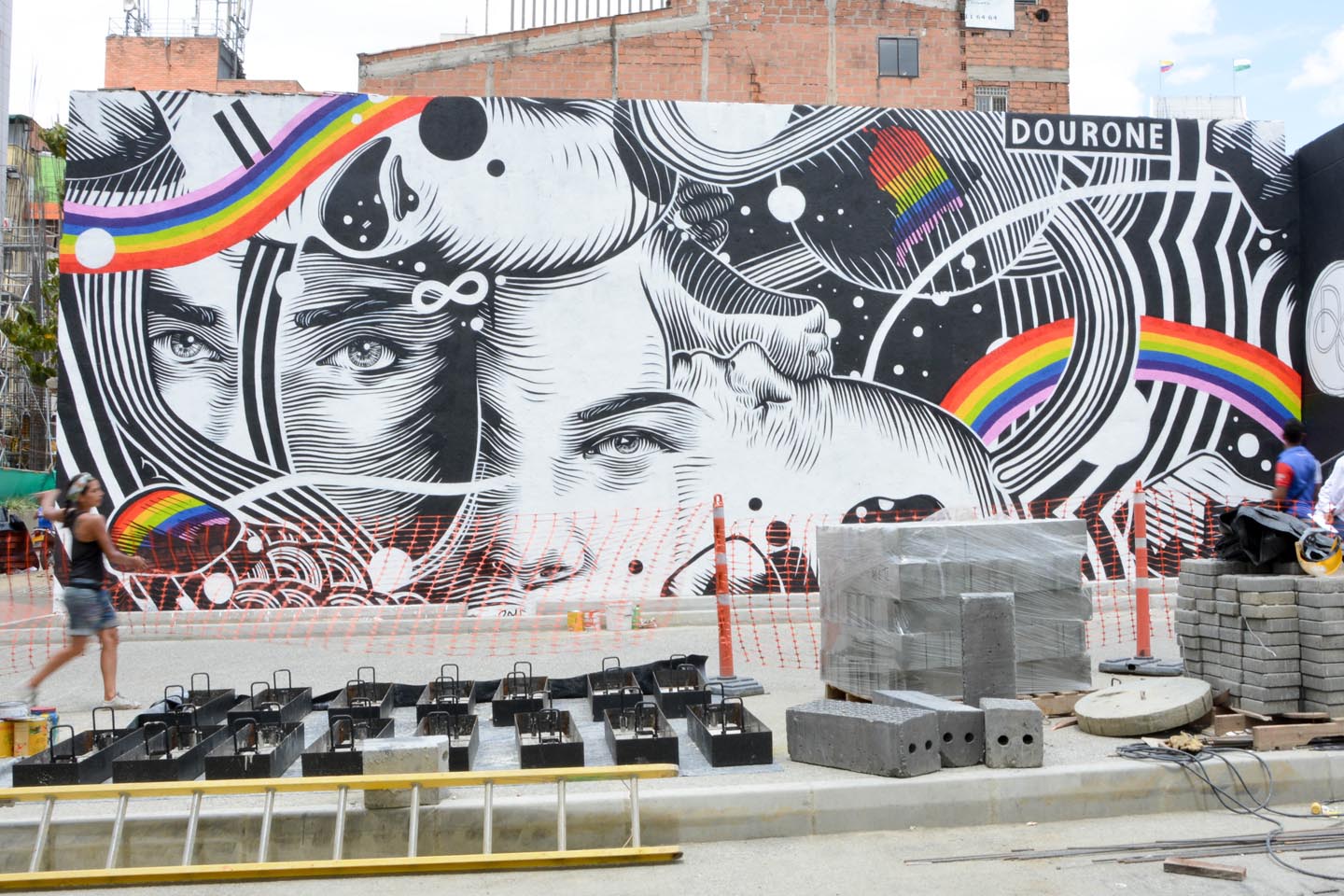 VIDA "Alimenta la mente" – Downtown Medellin/Colombia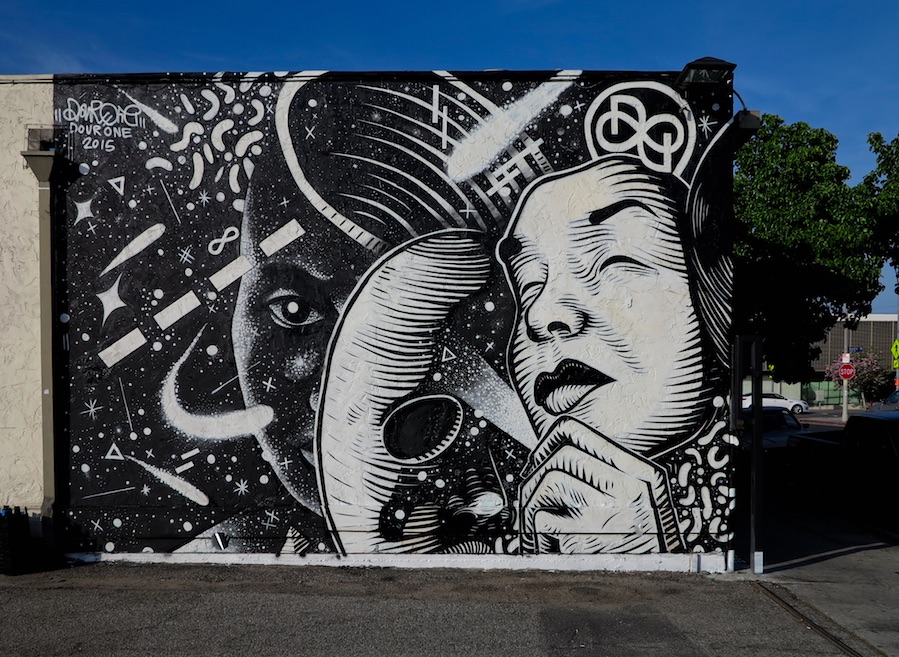 Source : Dourone